Reduce Your Pet's Carbon Pawprint, One Treat At a Time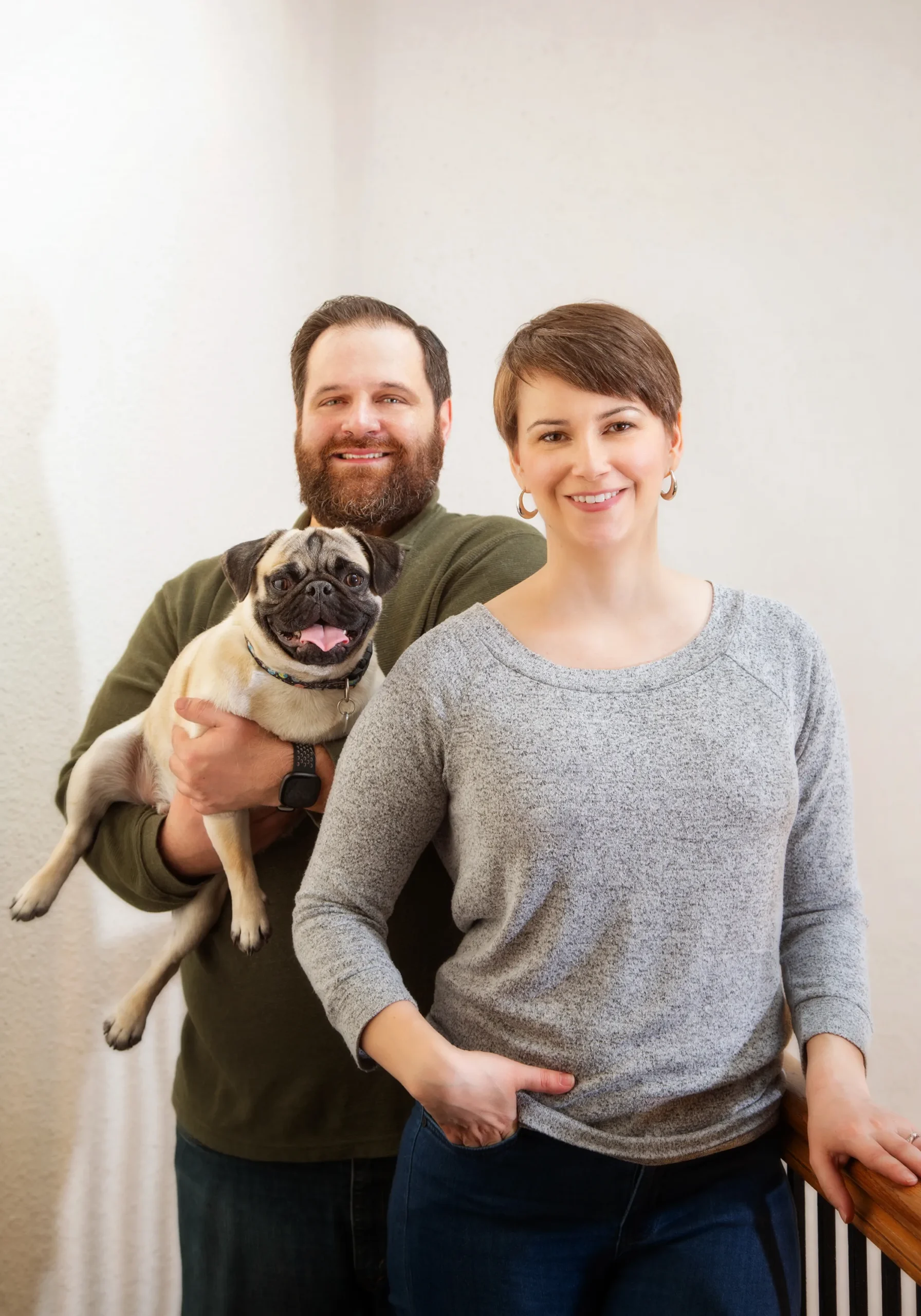 In February 2022, six early-stage pet care startups joined the Leap Venture Studio accelerator program for a 12-week immersive experience. Throughout the program, the founding teams worked in tandem with a curated team of strategists and designers from R/GA Ventures, and received mentorship from Mars Petcare and Michelson Found Animals on building impactful and scalable businesses. As we gear up for our next cohort this year, here's a look back at yet another successful program. We are excited to feature the amazing startups from Cohort 5 in a special blog series!
Bright Planet Pet (Minneapolis, MN): Bright Planet Pet makes 100% plant-based dog treats that taste and smell like real meat.
Katherine Ellison, Co-founder & CEO
What motivated you to build an impactful startup in the pet care space?
Katherine: A few years ago, I was at a trade show and I was talking with a colleague in the industry about what kind of treats millennial pet parents will be looking for in the future. During that conversation, I had an epiphany that we have so many plant-based treats in the market like peanut butter biscuits, fruit-based treats, but none of those products were marketed as plant-based. So, I saw a marketing opportunity. Around that time, plant-based meat was already gaining popularity and becoming more accessible, so I took the product ideation a step further and thought, why don't we make a treat that's 100% plant-based but tastes like meat. I took inspiration from other human-grade plant-based meat products in the market and launched our first product, which is called the Better Burg'r.
What are the greatest challenges you've faced as a startup founder and how have you overcome them?
Katherine: Dave, my co-founder, and I bootstrapped the company, and it was challenging to get our line of plant-based dog treats to the market with a limited budget. We made a lot of sacrifices in our personal lives to be able to fund our business and had to make tough decisions to be able to manage our budget effectively. We eventually started picking up speed with more customers placing orders. We are now at a point where we are raising money, but the first year-and-half was definitely challenging.
Another challenge was that we had a really small team. Currently, I am the only full- time employee at Bright Planet Pet with Dave and another employee working part time. We decided to keep the team lean and spend our money on building the product. I had experience juggling multiple tasks in my previous job and this helped me manage the company with a small team. We are now at the process of growing the team — we will still be small, but mightier.
What is your biggest take away from the Leap Venture Studio?
Katherine: Having access to the network of experts from Mars Petcare, Michelson Found Animals and R/GA has been unbelievable. It has been helpful to have conversations with people who have different areas of expertise and can bring in different perspectives — make us think about questions we haven't asked ourselves yet. The breadth of experience we were able to tap into has been wonderful. Another great thing has been developing partnership and camaraderie with other founders. We are all going through similar challenges. To be able to find that community of other founders and be able to help each other and work through problems has been great.
How has your startup made a difference for pets?
Katherine: Our dogs were the first to try our treats. We have their seal of approval. We were really nervous when we gave our dogs the first batch of treats. We wanted to make sure the treats tasted good, and our dogs loved them! We have transitioned them from meat-based treats to our plant-based treats. Speaking about dogs and pets in a larger capacity, we are proud to deliver the real meat taste with 100% plant-based ingredients. Each dog that switches to Bright Planet Pet is lowering their carbon pawprint and making a more sustainable choice without sacrificing on taste. Dogs absolutely love the taste of our products.
What advice would you give to fellow pet care founders who are just starting their journey?
Katherine: Reach out to other founders in the similar space that you are in and try to build mentor- relationships with other people who have done what you have. This helped us as we developed our go-to-market strategy. People in the industry are really friendly; founders want to help other founders. Reach out on LinkedIn or email and have a 30-minute conversation with them. If we work together, we can do better for all pets.
Tell us about your pet(s)!
Katherine: I have three dogs and two cats. 2 dogs are half-pugs and half-Boston terriers. June is 10 years old and Kika is one-and-a-half years old. I have a one-year-old pug named Elon and a three-year-old Maine Coon named Zeus. I also have a rescue kitty; her name is Gigi and she is 12. My home is full of many animals and is like a little zoo!
What is the unique selling proposition (USP) of your company?
Katherine: The USP of our brand is that we make 100% plant-based treats that taste and smell like real meat.
Bright Planet Pet has now launched new flavors & new partnership with Central Pet Distribution, increasing availability across the country! Check out their website to know more.
Check out Bright Planet Pet's pitch at the Leap Venture Studio Cohort 5 Demo Day that was held on April 28, 2022. If you are interested in connecting with their team, email us at leapventurestudio@gmail.com
Learn About the 9 Incredible Startups from the Leap Venture Academy Fellowship in Europe
July 2, 2022 | Industry News
Read More